WCF Personal Trainers

*Personal training special applies to Trainer Mikey only.
Mikey Herrell
Hi! My name is Mikey and just love to move! Running, hiking, dancing, or  just throwing weights around… I love it all! I grew up all over Western Washington and graduated from South Kitsap High School. I ran track, played soccer, wrestled and even sang in the jazz choir. I started a career in music broadcasting fresh out of Eastern Washington University. I had a ton of fun, had a lot of laughs and went to some amazing shows! I was shooting a TV commercial at a Health Club in Yakima when I discovered my true calling: Personal Training!
After completing my certification with the National Academy of Sports Medicine (NASM), I jumped head first into being a fitness professional. My motto: make fitness fun! I LOVE being the BEST part of someone's day.
Weight loss, group training, sports performance or even if you look to fitness just to boost your mood…I'm your guy!
Contact westcoastfitnessportorchard@gmail.com
to inquire about details and pricing!
---
Rebecca Diehl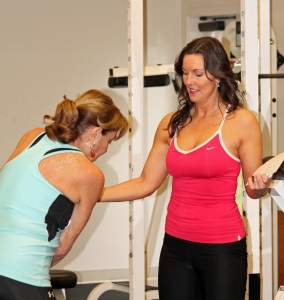 Hi, I'm Rebecca Diehl.  I've been a personal trainer at Westcoast Fitness since 2010.  I am NFPT (National Federation of Professional Trainers) certified and I have a Master Trainer Certificate, which includes specialties in Fitness Nutrition, Resistance Training, and Endurance Training.  My passion is health and fitness and I love helping people reach their goals.  The gym is thoroughly equipped with everything we need to meet any goal you set.  My most favorite part of my day is being at the gym; it's my Happy Place.  I am a mother of four boys, a small business owner, and a local elected official.  I understand the demands of life and how to succeed in what's most important.  I love people, I love teaching, helping, encouraging, and training.  Hard work can be fun and accomplishing your goal is possible!
Schedule directly with Rebecca:
PHONE: (360) 265-9640
EMAIL: rebeccaspersonalfitness@gmail.com